There is a new ultra small, wireless microphone system from Rode that is perfect for vloggers, journalists and anyone who wants to get great quality audio but doesn't know anything about audio.
The Rode wireless ME microphone system has only 1 transmitter and 1 receiver yet it has 2 microphones. That is because one of the microphones is built into the receiver. This is designed so that the camera operator can get their audio as well as the person that has the transmitter. Watch my video review to see how it works.
⬇️ Get the RØDE Wireless ME Microphone kit here ⬇️
Rode https://bit.ly/WirelessME
B&H https://bhpho.to/45ugyGo
Amazon https://amzn.to/3P9rphB
Amazon Canada https://amzn.to/3ZqpzxL
Amazon UK https://amzn.to/3rbVepF
Amazon Germany https://amzn.to/45Jncbw
Amazon France https://amzn.to/44yUWro
Adorama https://adorama.rfvk.net/EKy9eP

The Rode Wireless ME is a streamlined and easy-to-use wireless microphone system that lets content creators, vloggers, influencers, and mobile journalists at all experience levels quickly and confidently incorporate hands-free wireless audio into their productions—regardless of whether they're shooting on a camera, tablet, or mobile device. In addition to the clip-on microphone/transmitter, the two-channel receiver also sports a built-in mic, making it possible to record audio from the camera operator—great for interviews and documentaries.
Boasting secure Series IV 2.4 GHz digital transmission at a range of up to 328 feet, the single-channel system is ready upon powering up, with no menus and or finicky dials to worry about—just instant functionality with easy-to-see LEDs that provide critical information at a glance. When you're ready for more, use Rode's companion apps to access a powerful feature set and customize your settings.
Additional Features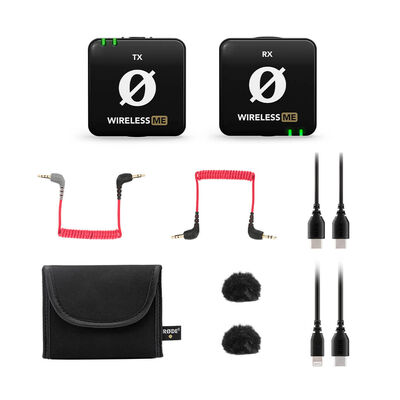 The receiver's 3.5mm TRS output sends a mic-level signal, making it compatible with an array of devices including DSLR and mirrorless cameras, mobile devices, and portable audio recorders.
Internal lithium-ion polymer batteries offer up to seven hours of battery life to handle long shoots.
USB-C ports on the components provide for battery recharging, powering via external USB battery packs (available separately), and firmware updates; the receiver also outputs audio to the USB-C port for a digital audio connection when used with mobile devices and computers.
Includes two furry windshields to minimize noise from wind and rustling clothes.
Expand the system with an additional transmitter (available separately) for capturing three microphones simultaneously.
Works with Free Rode Apps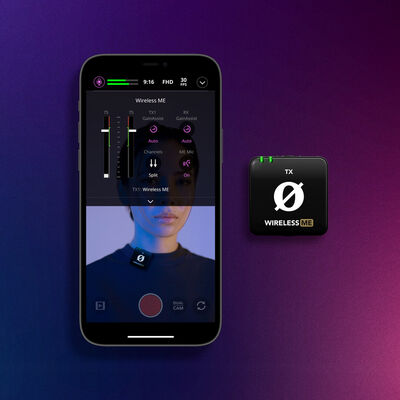 The Rode Central app allows you to quickly configure your device settings, unlock advanced features, activate and deactivate functions, and update your firmware.
Rode Capture is an intuitive video app with unique creative features for capturing professional video and audio for your content. It is the only video app to offer complete in-app control of Rode microphones, and with its immediate interface and powerful dual-camera modes, Rode Capture is ideal for everything from recording video interviews and reporting in the field to creating content for TikTok, Snapchat, or Instagram Reels.
Great for podcasting, streaming, and recording duties, the Rode Connect software allows up to 4 guests to be connected to a single computer. With an intuitive recording interface inspired by the RodeCaster Pro featuring broadcast-style faders, level metering, sound pads, mute button, multi-channel recording, and more, Rode Connect gives you complete control over your podcast recording.